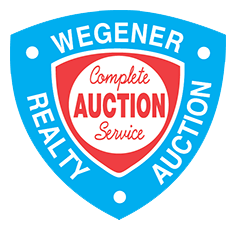 Our Story
WEGENER REALTY & AUCTION
Offering Proven Experience
The Wegener family has been active in auctioneering for over 41 years. Mylen Wegener and his sons have sold everything from household goods and real estate, to agricultural equipment and livestock. Their reputation for professionalism and service has taken them not only across the Midwest, but also across the United State to conduct auctions They are licensed in several states.
Wegener Auction Co. is equipped to handle any size of auction. Their fully computerized mobile office provides customers with quick and efficient sales transactions with no surprises. Settlements are usually made the day of the sale.
Wegener Auction Co. brings buyers and sellers together. They handle all the details, starting with a detailed inventory of the items for sale, to producing posters, newspaper ads and the Internet to blanket the area with pre-auction advertising.